Mrt 03 2009 · 0 comments ·
Geen categorie
·
0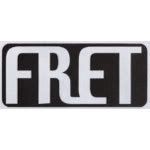 So far, reviews of my album in the Dutch press have been f*cking awesome (I'm still waiting on Live XS and OOR, so my fingers are still crossed). But FRET Pop Magazine, a free nationwide music mag, really got me high as a kite…
They've made my album Old Masters Painted These Moments 'demo of the month'! It means that my album gets some extra attention on the page, a bigger picture and a bigger review. And what a review it is…
It starts off with (it's hard to write this without blushing and not sound cocky):
"It looks like  the spirits of Neil Young and Bob Dylan have timely settled in the soul and singing of a twenty-something from the north of the Netherlands."
Are you kiddin' me?! Off course, that's way too much honor! (Bob & Neil not only being two of my biggest heroes, but probably the best songwriters to walk this earth. It's like comparing Jupiter and Saturn with a pebble..) It's really nice of the reviewer, though.
He goes on saying some really nice stuff and ends the review with:
"All in all a magnificent debut. Not innovative, but very well done and astonishingly beautiful."
Like I said, I'm very, very pleased with this one.
Thanx FRET!0